Being armed should be a human right. However, the world does not work the way we want it to. From legislation to sheer bad luck you can find yourself out and about with no method of self defence or any method to hunt and feed yourself. Depending on time of year and your situation this may not be an issue. On the other hand this could easily be life or death.
As part of every survival kit and bug out bag you should always have some basic tools, see the other articles on suggested contents, one of which should be a knife and some snares, hooks and fishing line. Although I actually have these items in my kit I have never caught anything with them. I'm guessing that it is because I've never been anywhere long enough for some creature to get careless or I'm just lousy at fishing and trapping and not desperate enough.
So let us assume that you cannot get a firearm or you do not want one for this situation. What alternatives do you have? Bows and crossbows are not restricted yet although you have to be over 18 to purchase them. They can be a valuable part of a survival kit but you must bear in mind, surprise, that hunting wild animals with bows is illegal in the UK. I've a compound bow and several crossbows. I can shoot the crossbow reasonably well but need practise with the compound bow. Although it is possible to get a take down bow that will fit in a survival pack. Swings and roundabouts.
There are several types of bows and crossbows. Normal bows and crossbows where you simply have a drawstring and a flexible curve and compound where pulleys are used to increase the power held in the bow or crossbow. Crossbows main difference being the method of pulling the drawstring back. Try the different types and find the most powerful one you can arm (pull the drawstring), carry and use.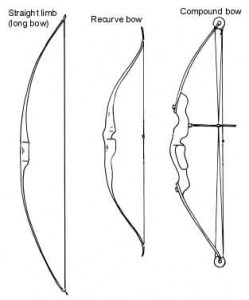 The compound bow is significantly more powerful than my crossbows. The crossbows would be useable to hunt small animals and birds and the more powerful one small deer, if you can get close enough. They would also be suitable for self defence if it was legal of course. The compound bow on the other hand goes much further and with more power. You could use it for larger animals at greater distances. I would recommend you get both, you never know, but if you can only get one get a crossbow. It is much easier to use and more practical.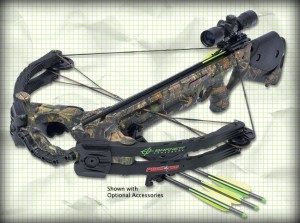 Alongside your bows you need to get arrows, or bolts if a crossbow. Although they are not cheap you should buy several as you will be unable to make arrows or bolts of similar quality if they are banned or restricted. The arrow heads are also important. Most arrows will have interchangeable heads and will either be a point or a flat head by default. You can buy replacement heads that are like coshes for birds which are designed to put all the energy into an impact or you can buy broad heads which are designed to penetrate and lock into the animal. As broad heads are the most likely to get lost because unless you have a clean kill the animal takes off with your arrow stuck in it. I bought a few more of them.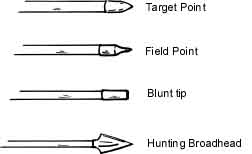 So buy your bow, and/or crossbow.
Spare drawstrings.
Care kit.
Arrows/Bolts. As many as you can afford. I bought 50 but will be getting more.
Warheads. Replacement heads. I bought enough broad heads for 40 and 10 of the flat heads and 5 cosh types. Each arrow/bolt already has a sharp point on it.
Carrying kit for bow and arrows/bolts
Bear in mind that so far even though I have not used any of these to hunt animals I have lost several arrows from the bow and one has broken. They are lost because they fly wildly off target and are obviously just lying around or buried in the ground but I just can't find them. I cannot afford to have this happen if I cannot replace them but this is another example of practise makes perfect. I need to keep practising. Not lost one from any of the crossbows yet.
In a real life or death situation it is possible providing you have the right materials on hand to build a redimentary bow with arrows. It will be nowhere near as accurate as a shop bought one and will take some practise without the aids for pulling and aiming. If you have the time try making one now. It could save your life and be a valuable skill if things go wrong.