Okay, a quick hi to everyone out there in the UK prepper community, I hope this is of use to some of you.
For a while now our community has been discussing the various comms options open to us here in the UK, ideas were varied and opinions differed. So we set ourselves a task – identify a common comms need, discuss and evaluate various options – CB on 27Mhz, PMR on 446Mhz etc. We agreed that CB on 27Mhz was probably the most common and easiest format for most UK preppers to use – but we recognised that there was also a viable option regarding modified 70cm ( 400Mhz ) radios, ones that were not restricted to 0.5W.
We realised that these freqs have limitations, and that we might need the extended capabilities of using local 70cm HAM radio repeaters for greater range ( bearing in mind that a lot of these installations now have alternative power sources and may be useful after TSHTF and the grid goes down ) so this was the area I concentrated on.
My overall aim was to create some form of 'manpackable' radio system which wasn't as technical as a HAM setup, but which offered more versatility than using a simple 'walkie-talkie' type handset with its antenna limitations. Ideally it would be inside a metal framed backpack which I could build onto – my solution however, was much more simple.
Ruckstool
As most fishermen will be aware there is a curious item called a 'Ruckstool'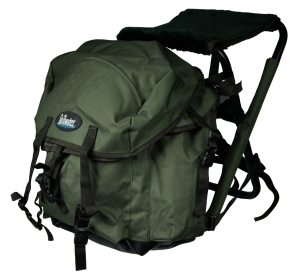 Sturdy Ruckstool @ £23
It has many variations, some with 'legs' which I ruled out as they sunk into the ground , others with the continuous 'unbroken' style like the one above.
I already had an older ruckstool that was tatty, and also a cheap but rugged backpack that had no fixed purpose, so I cannibalised the two, and combined them to make my basic portable manpack – I think it could easily be switched for use with CB systems too, but there will probably be greater issues with the SWR of the setup. Obviously you can buy this as a brand new ruckstool, but as I had the basic parts which were disused, I then compromised.
Antenna Mount
I decided on a light duty mirror mount for my setup.

Adjustable light duty mirror mount @ £5
As the mount is fully adjustable the antenna can be rotated horizontal if need be, when travelling through low clearance. This is clamped onto the frame and fixed in such a manner it wont hamper the operation of the ruckstool.
This is now where the project got 'interesting.'
The above mount will accept various antenna bases , such as dome type, dv type, nmo type etc, some will have an SO239 base (Pic 1) others may have a DV type base (Pic2) and some will have the 3/8 base (Pic 3) for attaching whips.
Pic 1                                                               Pic 2                                                               Pic 3
Others again may have the same base, but with a different bottom connector. Be careful when you make your original choice of antenna, as sometimes the antenna you choose will come with a base – other times it may be just the antenna itself with no base.
Your choice of antenna will determine if or which base you need, and which connector it comes with.
This then leads ( pardon the pun ) to your next headache – the coax cable you require to connect with the antenna, as I mention before the coax MUST have the correct connectors at both ends – I chose the Nagoya NL-770H mobile antenna for my setup, it had a reverse PL259 base.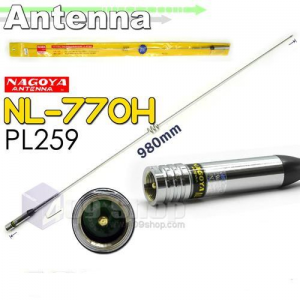 NAGOYA NL-770H Dual-Band Antenna
The antenna base screws onto a dual bulkhead SO239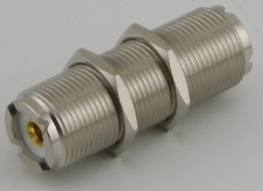 Dual Bulkhead SO239
which I had fixed onto the mount, and to the rg58 cable with a PL259 at each end – the perfect solution is of course to buy an antenna kit with cable and connectors, but it limits you to the antennas you can choose. I also found it nigh on impossible to find a 'PL259 to SMA female' cable when looking at these kits, so you will need adaptors of some form one way or another.
I had to improvise again with a patch lead. If you are handy with a soldering iron and have the basic cables and connectors then all's well and good, as per usual I had to rely on an internet search to come up with my solution.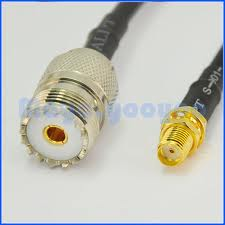 Patch Lead
This connects onto the main cable run from the antenna. It also acts as a sort of 'strain relief' to the antenna socket of the UV-5R, hopefully the main cable will take any stretch and strain and the patch lead / antenna socket of the radio should be fine.
So – we have the backpack with the antenna mount attached, the cable running to antenna from inside the backpack and (unfortunately) a patch lead then running to the handset either clipped on you, or in the backpack – with an external 'rain'proof speaker/mic running to you.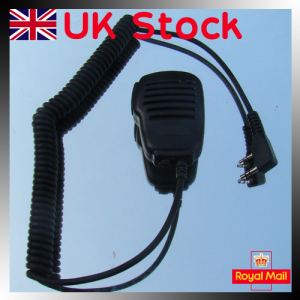 Rainproof Speaker Mic for UV-5R
I think that the opening for a water bladder might be useful for running a mic cable through the straps to right where you need it to be.
Another issue that made us stop and think was – battery backup, as the UV-5R didn't seem to have any other 'wires free' option than the stock battery, so it was with great relief that I managed to find a 'battery case' adaptation for AAA type batteries for this handset.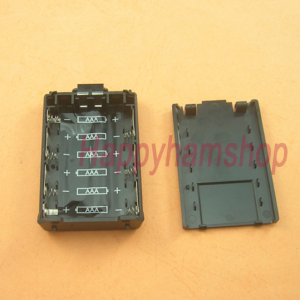 UV-5R AAA Battery Mod
Hopefully you now have the portability of the walkie-talkie, but with the extended range that a mobile antenna brings. This is the budget version of manpackable radio, but that doesn't mean it wont work.
Before anyone else says it – I realise ( now ) that if I had chosen a better antenna – or even one with a different base, then I wouldn't have had all the side-issues in this small project, as it is a prototype then I can undoubtedly improve on the next one, getting rid of all the shiny bits for a start – but the fact remains – the idea is workable.
I am currently testing this setup and will post up the my own pics / results once finished.
This will include comparisons with the antenna that the radio comes with – the portable NA771 antenna, and the mobile NL770H antenna.
The 'finished' item – with optional speaker/mic + battery mod comes in around £70, with the handset = £100 approx, which, for the possibilities it allows – isn't too bad.