I'd like to thank Rob Mayer for posting a link to a UK company that supplies self sealing tins. The product called PressItIn supplies normal can sized tins that you can put your own stuff in and seal it up.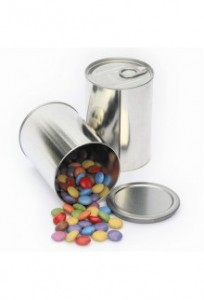 I've had a look at them and I can see quite a few uses for these tins in helping us prepare. Coupled with an inert gas I can see a few uses now with tremendous storage options once the tins get bigger.
To protect certain items long term.

Foodstuffs, coffee, tea, etc.
Ammunition
Tools

Medical items
Instructions
Caching

Clothings
Towels
Sanitary equipment
Wet Wipes
EMP proof small items

To hide certain items. Put a normal label on the item.
I'm sure we can all think of additional uses.
At only 71p a tin what can go wrong?  They could be cheaper and easier than the solutions we use now. I'll be checking up and seeing what the minimum quantity is this week,