It looks like preppers are going to be caught up in the latest government fishing expedition under the guise of anti terrorism. I've touched on this situation before and although it is a US initiative we all know that with the current situation with TWoT it will be rolled out here pretty quick. It seems that in the US buying MREs, waterproof containers and other useful survival equipment is a sign of terrorist activity. They are asking stores to report people who act suspeciously.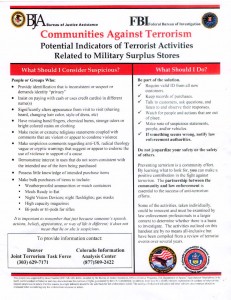 Click to open in a new page.
I cannot emphasise enough how much we need to keep our heads down. Unfortunately, this too is suspicious and makes us subject to further scrutiny.
On the plus side with the state casting the net so wide the number of false positives increases dramatically. That effectively wastes so much of the authorities time that they miss out on true terrorist activity but luckily for us this isn't much of a threat anyway.
With the riots continuing and the state being forced to look at what to do as a long term solution there is a real possibility that what they will do is clamp down even further on our liberties. The call by the citizens is to clamp down on criminals, allow citizens to defend themselves and the police to police. Clamping down on criminals is our governments current stance with quick jail sentences, kicking those people out of council properties and the like. It sounds tough, it looks tough but I suspect that over the next few months our government will backtrack, the sentences will all be appealed, the sentences reduced and the evictions cancelled or the perpetrators already evicted in the knee jerk re-housed at our expense. Many will even be given funds to buy new beds, sofa, fridges and cookers because being evicted meant they had nowhere to store theirs.
However, it is the default solution for the sort of thinkers we have in our government that their policies cannot be wrong they just need to push them harder, quicker and clamp down on dissenters. In three months I think we will see new laws in place, the toughness gone and a further clampdown on our liberties with raised taxes and insurance premiums. This would move us closer to Russia rather than what used to be a free country and will only cause more people to become disaffected. Thus the current situation simmers while even more heat is being applied. Wonder where that will lead just in time for the Olympics next year. Good timing there.
I hope they continue they way they are now with the clampdown and they change the laws to allow armed self defence without someone with 20-20 hindsight to decide if it is justified or not and allow these criminals to be put away. That would be a step in the right direction.
In the meantime though. Be careful where you buy your supplies, how you pay for them and the items you buy together. Don't draw attention to yourself but at the same time don't supply ID or answer any questions that are not legal requirements. Go someplace else even if it is from Arthur Daley who isn't interested. Let the nosey stores lose business and perhaps even go bankrupt in the current climate. You are not a terrorist and you do not want to end up on that list. Plod have notoriously twitchy trigger fingers when they come visiting and you want to keep your life and your firearms certificate.