This gardening technique has been around for centuries apparently, it was used by the Romans and the Chinese to grow food for the table efficiently so I've been reading up about the technique over the last few weeks. I've bought a couple of books, Aquaponic Gardening: A Step-by-Step Guide to Raising Vegetables and Fish Together and Building An Aquaponics System: 1 (The Backyard Prepper Series) aimed at beginners which should allow me to understand enough to acquire my own system.
The theory behind it is sound, based on hundreds of years of use and the system doesn't look that complicated, so far anyway, but having so little time I decided to have a look at what I could purchase as a solution instead of building. I came up with two systems available on Amazon and eBay which were complete Aquaponics solutions, one a FishPlant Family Unit Complete System was £600 and the second a FishPlant Production Unit Complete System was £1000.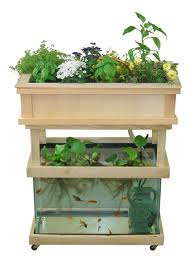 Basically you need two containers, one for the fish, although you can use other sea creatures, crayfish or oysters for example, and the other for your plants. You feed the fish and use their waste products to fertilise the plants and the water is cycled between both systems. This system is more efficient in water use than Hydroponics which doesn't have the fish and you have to add fertiliser which eventually requires the water to be completely replaced. Fish food being a lot less expensive and less damaging than fertiliser as well as producing fish is clearly a much better solution.
Sure, it needs power for force growing the plants but a small solar system can be used to power a few of these units and even if there is no power they can be used although production will be down. After all the Romans didn't have any power when they were using these techniques.
I feel that these system will be invaluable for our requirements. Compact and efficient they will provide us vegetables and/or fruit and protien in the form of fish all of which could be grown indoors, garages, greenhouse or the like and out of the gaze of predators passing by.
The only OPSEC concern would be the solar panel and as the power requirements can be minimal you can opt to leave the force growing of the plants and increase security.
Well worth a look, search the internet to see others home built units, and see that you can build your own at a fraction of the price a ready made system is sold for. Personally, I'm going to be building one after I've finished with the solar panel project.