Been busy on the land since the last post. Basically moving stuff up and storing it to make way for things at home as well as setting up areas for the future.
The Bees were front of the queue again with a lot of work required in a hot bee suit.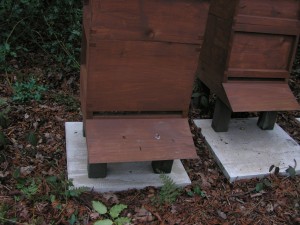 First up was consolidating all the hives down to standard brood boxes from deep brood boxes. This enables me to move the frames around easily although it meant I had to chop some frames down to size so that I didn't impact the colonies too much. Next was splitting the hives to grow the numbers. This was made a lot easier with all the frames being the same size. I checked and remarked the queens and checked how everything else was. Everything looks fine but we will know when I check this week for queen cups, new queens.
Spent some time planting things, raspberries, currants, blackberries, brambles, rhubarb, strawberries, cranberries as well as some trees, apple, pear, cherry. I have a wide variety of plants in my garden. I'm moving in more raised beds and will be planting other items as I go on. Next year almost everything will be in place.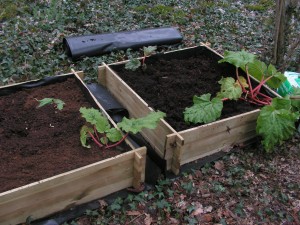 I spent a lot of time moving stuff up there as well. I have a lot of bricks I retrieved when a neighbours patio was being replaced.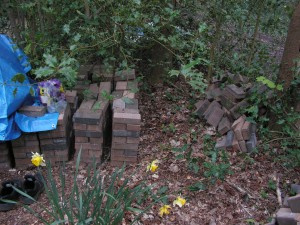 Moving them up a few at a time with other stuff. No rush they are not in the way, now, at home.
Got six builder bags of hay for the chickens for £15 as well. Always handy when a small bag costs £3 in the pet shop.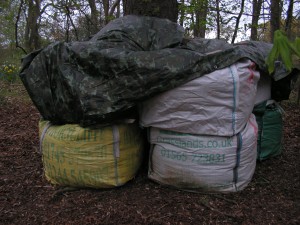 I'm also putting my tools away and covering them up. Won't stop a determined thief but in the dark will be difficult for someone to find. Plus I have a few night cameras up there now. Already found a neighbouring farmer wandering through whom I am sucking up to for shooting rights on his land. Bit of a dilemma there but he told me about it and what he was looking for so I'm less concerned than if it had been a stranger.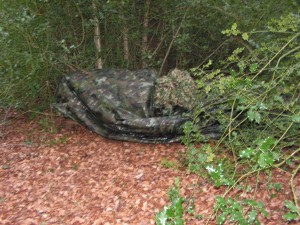 Doesn't look like much but a lot of work went into it.
Finally just for your amusement. Here is where I spent four hours the week before last.